It's almost inevitable that tiled floors which have been covered by carpet, paint, or linoleum for many years will be in a sorry state when they are finally unveiled. However, many property owners and renovators are keen to restore original tiled features, and in the majority of cases require assistance which is where we step in.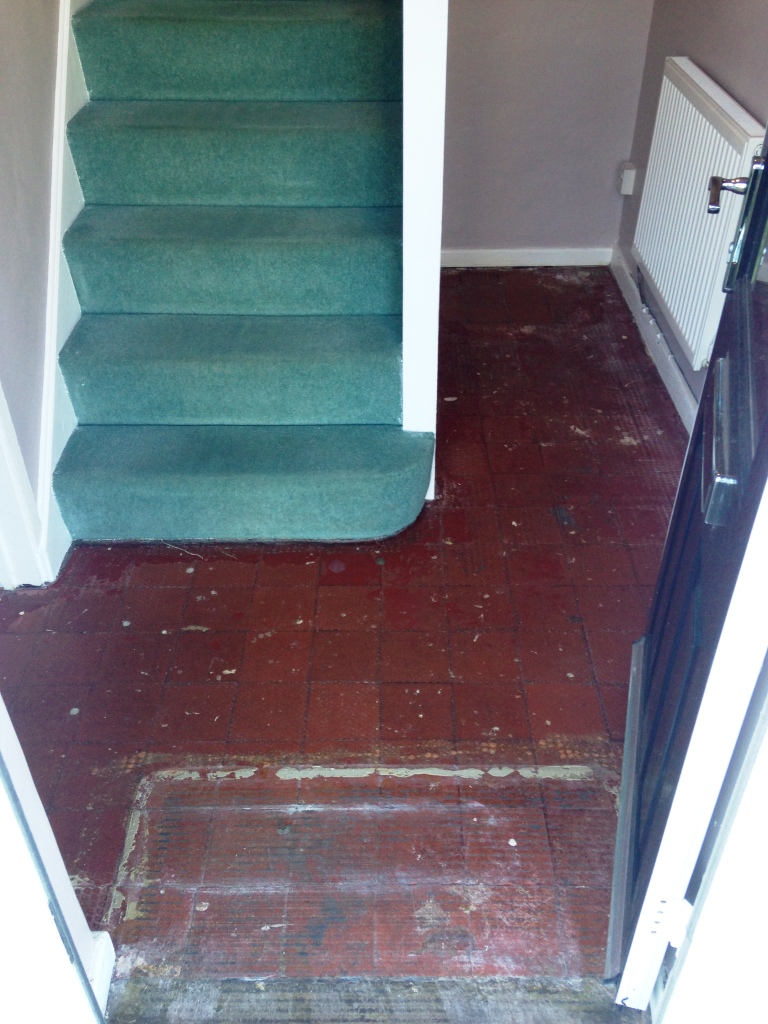 These
Quarry tiles
were in particularly bad condition: the property owner had been unable to remove the old red paint and carpet which had stuck to the tiles with what appeared to be Grip Fill adhesive. While the owner had already booked a carpet fitter to change the carpet on the nearby staircase, they asked me to clean and seal the Quarry tiles on the same day, meaning the job would have to be carried out quickly and efficiently. The house was located in the Monmouthshire village of
Abergavenny
, which is sometimes promoted as the "Gateway to Wales".
Cleaning a Dirty Quarry Tiled Floor
My first concern when cleaning these tiles was removing as much of the old glue and carpet as possible. I did this manually using a six-inch handheld scrapper together with wire wool. Then, to take the cleaning process one step further, I followed up by applying a 50/50 mixture of Tile Doctor Remove and Go and Tile Doctor Pro Clean, before scrubbing these into the tiles with a pad fitted to a rotary machine.
While this achieved some good results, there were still some stubborn areas left over. To tackle these, I applied Tile Doctor NanoTech HBU, a remover specially designed for heavy soil buildup. It utilises nano-sized particles to get beneath tough stains and dissolve them, and did exactly that with the difficult adhesive staining here.
Once the floor was clean I gave it a thorough rinse and removed any soiled cleaning residue using a wet vacuum. I then left it to dry off completely for a few hours.
Sealing a Quarry Tiled Floor
Since this was quite a small area it soon dried and with the carpet fitter now out of the way I was able to complete the sealing later that afternoon. I did this using seven coats of Tile Doctor Seal and Go, which is a water-based sealer (so no smell as it dries) that builds up a durable layer of protection on the surface of the tiles. It is a more cost-effective sealer for hard wearing internal surfaces like Quarry, Victorian tiles and Slate and the result is a durable and aesthetically pleasing low-sheen finish.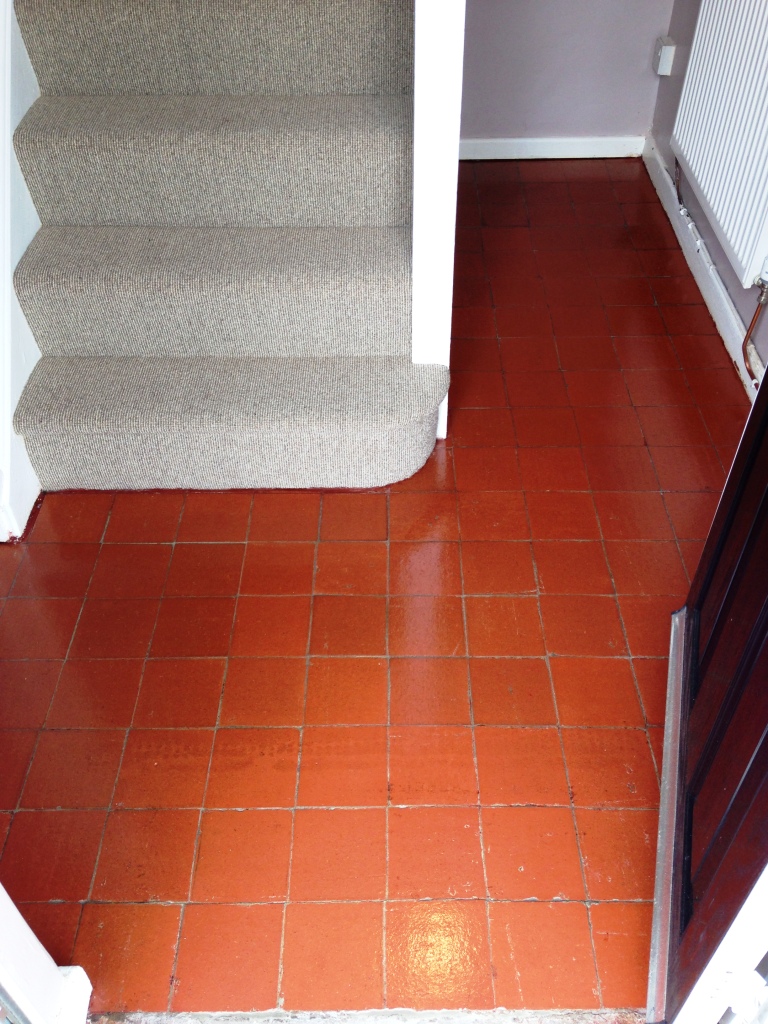 As you can see from the photograph, the newly restored Quarry tiles work very nicely in tandem with the new staircase carpet. Considering the very poor condition of the tiles before this work was carried out, it's safe to say the customer was very pleased with the transformation.
Professional Quarry Tiled Hallway Renovation in Monmouthsire