This lovely Victorian tiled floor was located in the hallway of a beautiful house in Abergavenny which is an old Market Town that dates back to Roman times on the outskirts of the Brecon Beacons national park.
It has been sometime since it was last given a thorough clean and seal and was now in need of some TLC to give it a new lease of life and have a chance to take centre stage again. The floor was in excellent condition, but the old sealer had worn off in the high traffic areas and dirt had now penetrated the pores of the clay tiles making it difficult to maintain effectively.
Repairing and Cleaning Dirty Victorian Tiles
To get the tile and grout clean and remove what remained of the old sealer I applied a 50/50 mixture of Tile Doctor Pro-Clean combined with Remove and Go. This was further diluted with water and applied to the floor for ten minutes, so it could soak into the tile and get to work breaking down the old sealers and dirt. The solution was then worked into the tile and grout using a 17" black scrubbing pad fitted to a rotary buffer machine running on slow speed to reduce splashing. This process released the years of grime and dirt build up from the floor and a wet vacuum was used to extract the soil.
I gave the floor a rinse with water which was then removed using the wet vacuum and the floor inspected to ensure it was clean and that what was let of the old sealer was now removed. There were a few stubborn areas than needed attention, so the treatment was repeated until I was satisfied.
The floor was then given a thorough rinse to remove any trace of cleaning products and then dried with the wet vacuum to remove as much moisture as possible. It's not wise to apply sealer when the floor is still damp so once I was done cleaning I left for the day so that is could dry off fully overnight.
Sealing Victorian Tiles
My first task upon returning to the property the next day was to check for any dampness. If you neglect to remove all excess moisture from the surface of the tiles before sealing it is more than likely going to cloud the sealer, rendering it less effective I'm protecting the stone against ingrained dirt and stains.
Once satisfied that the floor was completely dry I was able to complete the renovation by applying several coats of Tile Doctor Seal and Go which is a topical sealant that works really well on Victorian tiles and leaves a lovely satin finish that brings out the colours.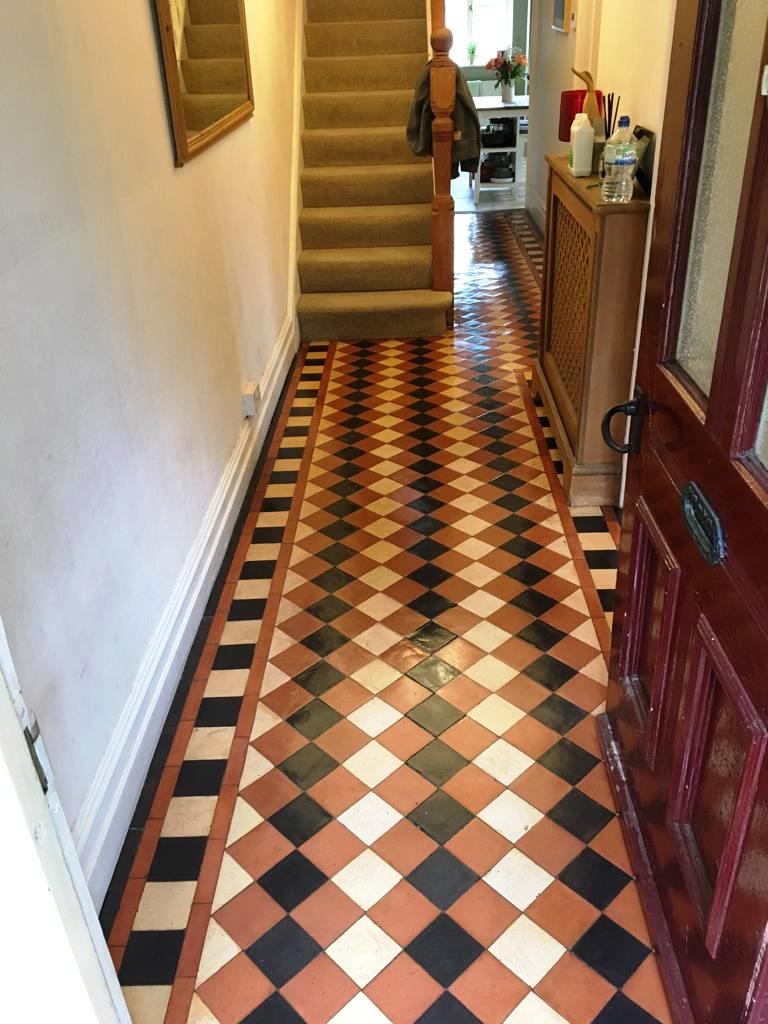 My customer was very pleased with the outcome and left the following comment on the Tile Doctor feedback system.
Paul was very professional and did a fantastic job with our Victorian tiled hallway. It looks so much better. I would definitely recommend Tile doctor to anyone needing cleaning or restoring of tiles.
Sarah T, Abergavenny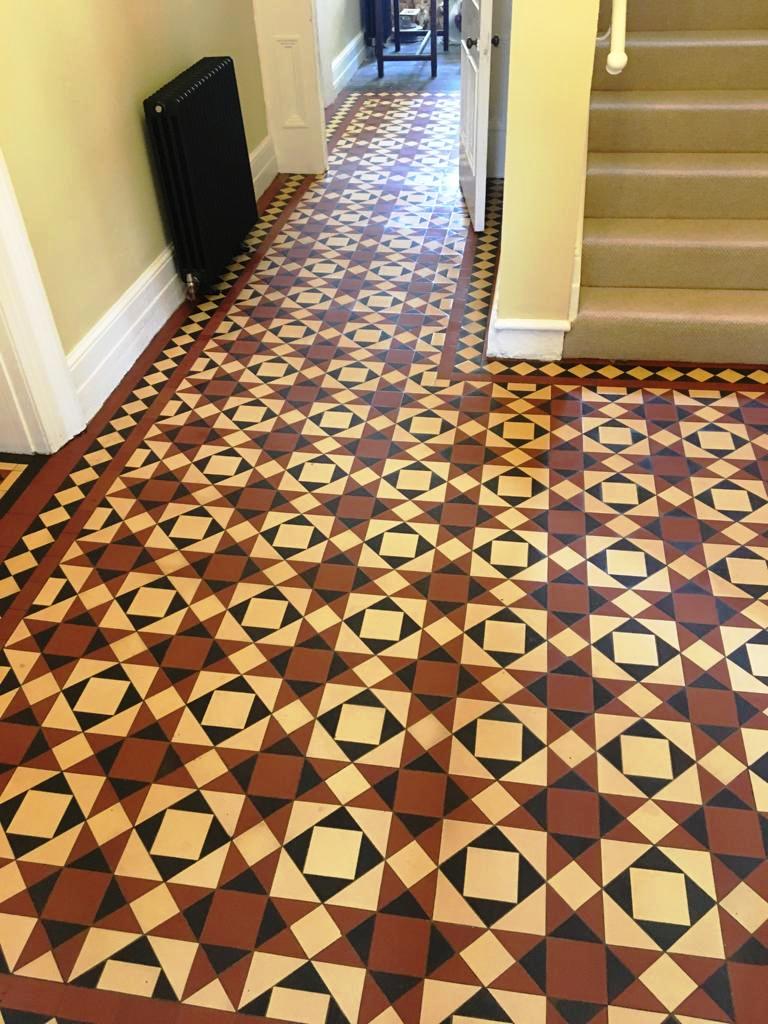 Professional Victorian Tiled Floor Restoration in the Monmouthshire